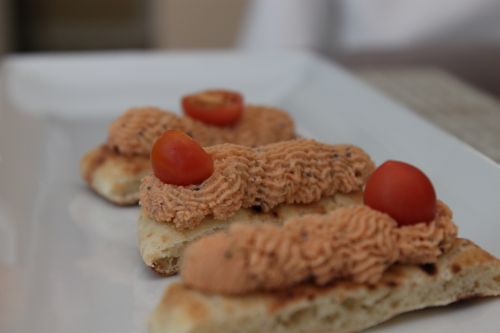 Smoked salmon is often thought of as being a great delicacy – or perhaps more particularly, an expensive one. Depending upon where you live, however, it can now frequently be bought fairly inexpensively in supermarkets, perhaps if only as a special treat.
For this delicious recipe, you will require:
Pate Balls:
4oz low fat cream cheese (block form)
2oz Scottish smoked salmon (semi-finely chopped)
1 tbsp horseradish sauce
1 tsp fresh dill leaves (finely chopped)
1 garlic clove (crushed or grated)
Sauce:
2oz fresh redcurrants
A little water
1 tbsp sugar
Carefully mix all the ingredients for the pate balls together, then wet your hands with cold water and split the mixture into 4 or 6 portions as desired and roll each one carefully into a round ball. Place them on a plate and refrigerate for at least two hours but preferably overnight.
Put the redcurrants and sugar into a pan and add enough cold water to almost cover them. Bring to a boil then simmer very gently for at least fifteen minutes until the berries are broken down. Push the mixture through a sieve and return to the pan, discarding the berry skins and husks. Bring the sauce back up to a simmer and if desired, thicken with a little unsalted butter. Allow the sauce to cool.
Place the salmon balls on to the plates (with a small accompanying salad if desired) and drizzle a measure of sauce around the edge. Serve with warm crusty bread and butter.
Source:
1. Red Salmon Pate Recipe – Allrecipes.com
2. Foods Combining Diet
3. Smoked Salmon Spread Recipe : Ina Garten : Food Network

Image Credit
www.melecotte.com